Edgar Priestley
25th Jan 1923 - 8th May 2010
A legend in his own lifetime, member of Huddersfield Chess Club since 1941.
Edgar died peacefully in his sleep Saturday 8th May 2010 aged 87.
Our thoughts are with his family and friends at this time.
There is another Edgar game in Geoff's Rapidplay games of 2005 -
see Games on-line in Photos, Fun and Games section below.
Glimpses of another chess era.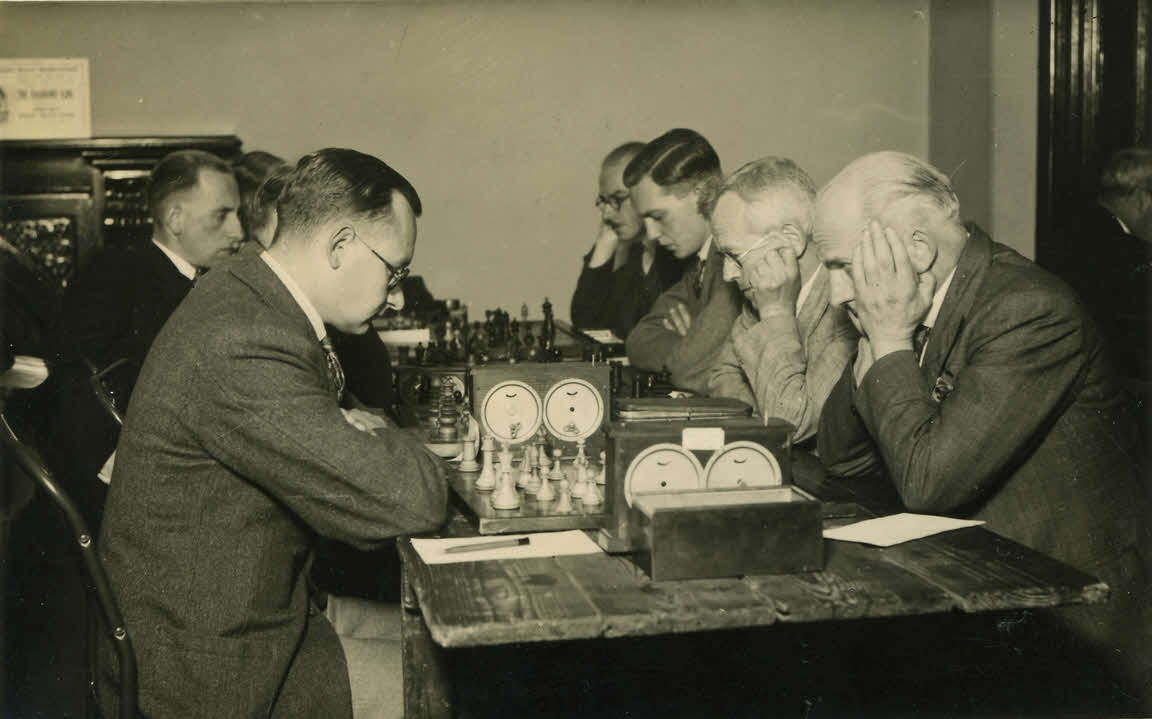 Edgar [left] v R.W. Silverside 1947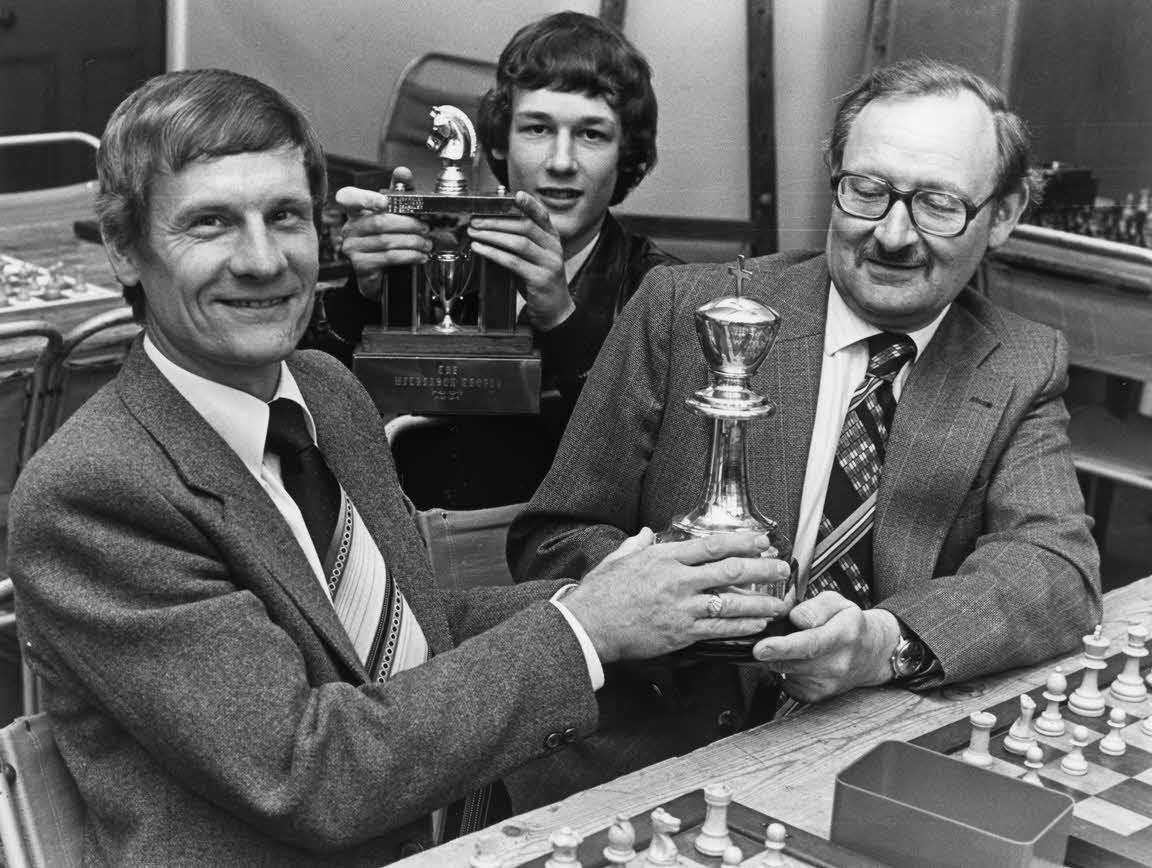 September 1980 President David Woodhead presenting Edgar Priestley with the Silver King trophy.
Michael Holmes won the Junior Trophy [background].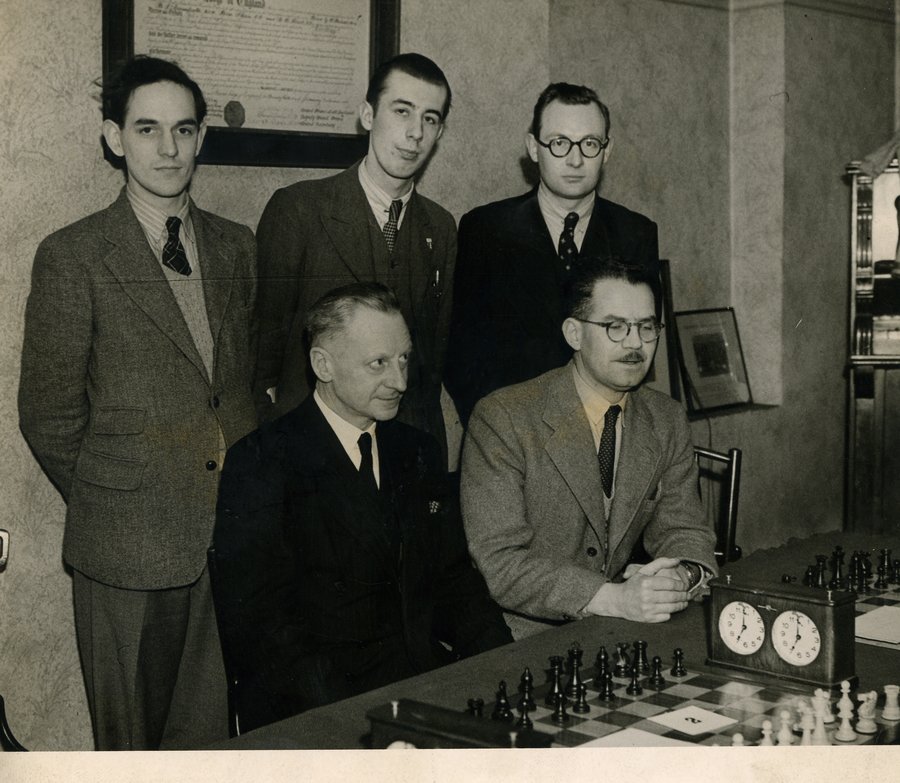 Yorkshire v Cheshire played at the Crown Hotel Feb 2nd 1950 over 16 boards.
Back Row : E.G. Broadbent, A.G. Midgley, E.Priestley
Front Row : H. Boothroy, K. Beaumont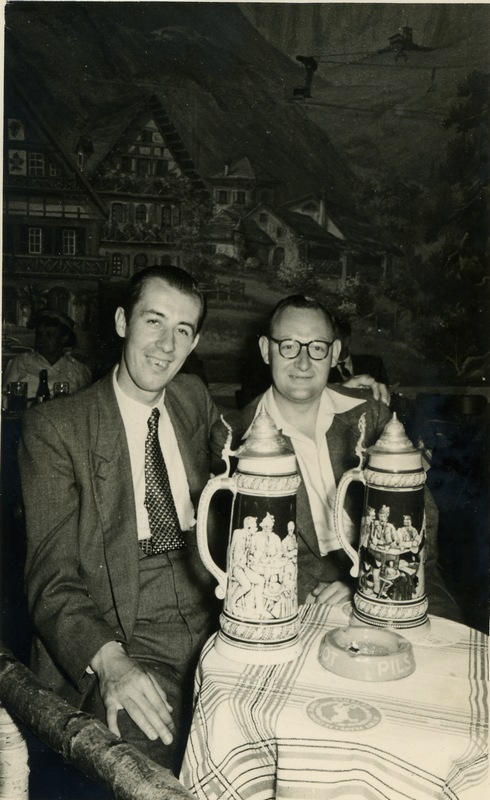 Tony Midgley and Edgar Ostend 1955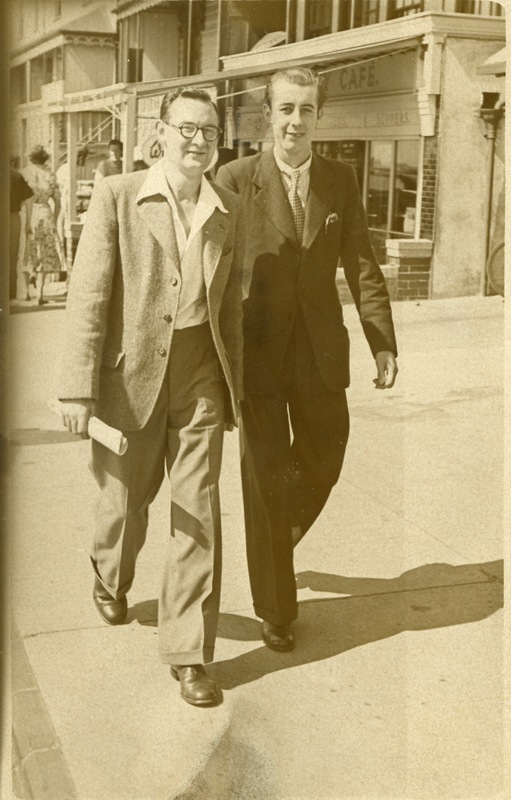 Edgar and Tony Midgley Felixtowe 1949
Edgar was born 25th January 1923. He learned to play chess in September 1938 at the age of 15. He was runner up in the HDCA Section 3 Knockout in 1940. He joined Huddersfield Club in 1941. He was runner-up in Section 2 in 1941 - as after four drawn games he lost the toss! He was also runner-up in 1943 and 1944. He played in Section 1 from 1945 to 1992. He was runner-up ten times but won in 1970 and 1972. From 1980 to 1992 he acted as controller for Section 3 at Huddersfield Club. From 1993 to 2002 he was controller for all 3 sections at Huddersfield Club.
He began to play for Huddersfield Knights in 1965, and played up to 2006, being captain for a 18 year period. Edgar was President of HDCA 1972-77. This was the golden time for chess following Bobby's Fischer's World Chess Championship win in 1972. There were two handicap competitions for teams, and the numbers escalated dramatically every year. Edgar was a member of the original "Handicap Committee" and was a member until 2007. At the HDCA centenary in 1995 Edgar was presented with a large engraved glass vase. Edgar won the Huddersfield Club Championship in 1962,1965, 1970 and 1975. He had a record ten wins in the Huddersfield Summer Handicap Tournament [the Silver King]. He was secretary of Huddersfield Chess Club from 1949 to 1956, President of Huddersfield Chess Club 1952-3, 1987-8 and 2002-3. He was secretary of the YCA Congress in 1953. He was a member of the Main Committee 1956 to 1993, member of the Tournament Committee 1949 to 2000, including spells of 7 and 10 years as tournament secretary.
The Huddersfield Club Championship trophy was renovated in 1995, and renamed the" Edgar Priestley" trophy.
Edgar felt that his most important contribution to chess was organising and contributing to the Examiner weekly column, from its inception in Jan 1952 up to June 2007. The previous 100 years of financial troubles were avoided. For example 2007 balance sheet income from subscriptions was £307 - income from the Examiner column £338. About 20 members have contributed at various times over the years. Edgar's other main helper was Tony Pogson [for 30 years].
The current League Secretary at the 2009 AGM stated "When we have men among us such as Edgar Priestley - Why should England tremble?" Yes Edgar was a true "giant" of chess, a gentleman and a great servant of Huddersfield Chess Club and Huddersfield Association. He will not just be sorely missed - he is irreplacable.
Obituary of Edgar Priestley, 87 Huddersfield Daily Examiner May 18 2010
He was regarded as Huddersfield's grand old man of chess.
Edgar Priestley, who has died at the age of 87, lived and breathed the game.
He was a member of Huddersfield Chess Club for an astonishing 69 years and also a loyal servant for the Huddersfield and District Chess Association.
And even though he had retired from competitive chess some years ago, he was easily persuaded to make a comeback for his club side this season.
He came back in a game against Sheffield and fought an honourable draw.
A chess club colleague, Richard Boylan, said: "He never lost his ability. He was as sharp as a fox when he was on the board.
"He was a very good friend to so many people at the club and was always an absolute gentleman. He will be missed not just for his chess but for his character."
Edgar Priestley was born and bred in Huddersfield and spent many years working as a chemist in the town.
Mr Priestley, of George Avenue, Birkby, developed his love of chess when he was 15 and joined the Huddersfield club, which now meets each Thursday at Lindley Liberal Club, in 1941.
He played for the club's first team for many years in the Yorkshire League and also won numerous club and regional awards.
He won the club's open championship four times and it has been renamed the Edgar Priestley Trophy in his honour.
He served as president for three spells and also held other offices, including an amazing 51-year unbroken spell on the tournament committee. He was also president of the District Association from 1972 to 1977.
Mr Priestley also contributed to the weekly chess column in the Examiner from 1952 to 2007.
Mr Priestley was a widower who leaves two sons.