Bobby Fischer is dead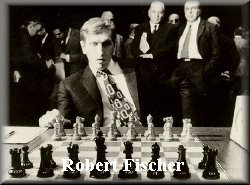 Robert James Fischer 9/3/1943 - 17/1/2008
11th World chess Champion
BBC NEWS :
The controversial former world chess champion, Bobby Fischer, has died in Iceland at the age of 64.
The US-born player, who became famous for beating Cold War Soviet rival Boris Spassky in 1972, died of an unspecified illness [this is believed to be kidney failure], his spokesman said.
He was granted Icelandic citizenship in 2005 as a way to avoid being deported to the US.
Mr Fischer was wanted for breaking international sanctions by playing a match in the former Yugoslavia in 1992.
Mr Fischer died in Iceland on Thursday, his spokesman Gardar Sverrisson said.
The nature of the illness was unknown but Mr Fischer had been reportedly seriously ill for some time.
Spassky said he was "very sorry" to hear of Mr Fischer's death, the Associated Press reported.
Russia's Garry Kasparov, a former world champion, said that Mr Fischer's ascent through the chess world in the 1960s was "a revolutionary breakthrough" for the game.
Bobby Fischer was born in Chicago in 1943, but was brought up in New York's Brooklyn.
He became a US chess champion at 14 and then a youngest grand master a year later.
He achieved world fame after playing a world championship match in Iceland in 1972, beating title-holder Spassky.
The so-called chess "match of the century" came to be seen as a proxy for the Cold War, as the Soviets had held the world title since World War II.
Mr Fischer, the individual who had triumphed over the might of the Communist system, became an American hero.
The 1972 match made chess fashionable, even sexy, some experts say.
He lost the world chess crown in 1975 after refusing to play against his Soviet rival Anatoly Karpov.
The eccentric US genius then simply disappeared, declining all lucrative sponsorship deals.
He resurfaced briefly in 1992, to play a re-match with Spassky in Yugoslavia in defiance of international sanctions.
Mr Fischer then vanished again, though it later became clear he had been living for a number of years in Japan.
He hit world headlines again after the 11 September 2001 attacks in the US.
In an interview to a radio station in the Philippines, he described the attacks as the "wonderful news".
In another interview Mr Fischer accused the media of trying to "poison the public against me".
"They constantly use the words eccentric, eccentric, eccentric, weird. I am boring. I am boring!" he said.
He had also been strongly criticised for making anti-Semitic comments.
Mr Fischer was granted Icelandic citizenship in March 2005, after spending several months in detention in Japan.
Bobby Fischer was a talented chess grandmaster once hailed as an American hero for breaking a Soviet dominance of the game that had lasted nearly 30 years.
His defeat of Soviet champion Boris Spassky in 1972 in the "chess match of the century" established him at the top of the game, after a run of 20 consecutive tournament victories that is still hailed as the longest winning streak in world chess.
But instead of capitalising on his win, he withdrew from competition and has rarely played at international level since.
In recent years, he had been better known for his paranoia, obsessive behaviour and outrageous public statements, which all but overshadowed his undoubted brilliance.
Volatile and impetuous
Bobby Fischer was a chess genius from the beginning, playing from the age of eight.
He was US junior champion at 13 and open champion at 14, a title he won seven more times.
He became a grandmaster at 15, but was already showing himself to be volatile and impetuous, often turning up late for or walking out of matches.
His victory in 1972 was unexpected, as every world champion since World War II had been from the USSR, and seemed a foretaste of a promising career.
But the man who once said that "all I want to do, ever, is play chess" played precious little of it at international level after he won the world championship in Reykjavik in 1972.
Instead of capitalising on his win, Fischer withdrew from competition. Three years later, the World Chess Federation stripped him of his title for failing to defend it against Anatoly Karpov.
Since then, apart from the Fischer-Spassky rematch in Yugoslavia in 1992 that provoked the wrath of the US government, America's greatest chess player made headlines for all the wrong reasons.
Reclusive
Until Fischer was detained in July 2004 while trying to leave Japan with a revoked US passport, his whereabouts had often been a mystery.
His reclusiveness, his anti-Semitic diatribes in radio interviews and - most unforgiveably for his fellow countrymen - his support for the 11 September 2001 attacks on the US all tarnished his legend.
"This is all wonderful news. It is time to finish off the US once and for all," he told a radio station in the Philippines after learning of the attacks.
BBC journalist and chess expert David Edmonds, co-author of the book Bobby Fischer Goes To War, says Americans were profoundly shocked by the transformation.
"To many people, he had been an American icon in 1972. The match had been presented as a classic Cold War battle," he told the BBC News website.
"The Soviet Union had held the world chess title since World War II and chess was an enormously important propaganda tool. Lenin was a keen chess player, so was Trotsky - even Karl Marx himself played chess.
"Bobby Fischer was held up as an archetype after that, and many people view what has happened to him with great sadness. They feel he has been letting not only himself down, but the US down as well."
Certainly Fischer's behaviour in later years was irrational to such an extent that many questioned his sanity. He repeatedly claimed that he was being hounded by a Jewish conspiracy, despite the fact that his mother was Jewish.
Even in his heyday, he was known for making unreasonable demands at tournaments, complaining about everything from the lighting of the hall to the amount of prize money on offer.
Ruthless
Fischer also had a gladiatorial view of chess. "I like the moment when I break a man's ego," he once said in an interview, adding to the sense of theatre surrounding him that helped elevate the game from an obscure pastime to worldwide front-page news
He did enjoy humiliating his opponents," says David Edmonds. "He could sense when his opponent was crumbling before him.
"But his style of playing was never flashy for the sake of showing off - it was clean, logical, ruthless and efficient. There was nothing ornamental about it.
"It was sometimes beautiful, elegant and harmonious, but he didn't try to please the crowds over the chessboard - he played to win the game."
Despite the scale of his downfall, Fischer continued to inspire successive generations of chess players.
Many continued to see him as an artist with a unique charisma, and tried to overlook the flaws that have brought him low.
Until the end, the US government viewed him as a fugitive from justice - but his move to Iceland meant he escaped the endgame of a public trial.