DEWSBURY CHESS CLUB PRESENTATION
At their A.G.M. in April Dewsbury Chess Club members rewarded their president Maurice Child with an inscribed pocket watch in thanks for his loyalty and service, both as an official and leading player with the club spanning 75 years. Maurice who is 90 years young joined the club in 1932 and still continues [up to 2006-7 season] to represent our I.M.Brown team in the Yorkshire League.
Congratulations Maurice.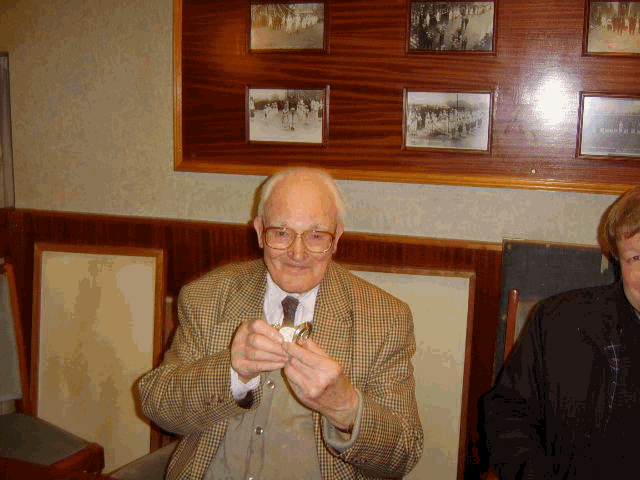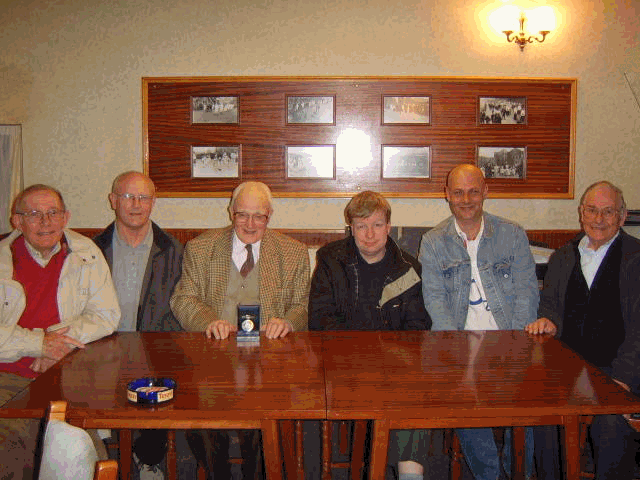 Maurice recalls...
An older friend taught me to play chess when I was nine years old. I joined the Wheelwright Grammar School chess club which met at 4.15 p.m. to 5.00 p.m. on Fridays. I remember Roger Winterburn's uncle Maurice giving an extremely interesting talk on basic principles such as open files, double rooks, how to queen a pawn and such like. Maurice, a retired vicar, was a leading player of Dewsbury chess team and died recently aged 91. The connection between Wheelwright Grammar School and Dewsbury C.C. was very close and they played each other two matches a year and many boys became promising members of D.C.C. Fred Carr an old W.G.S. boy was president 30 years and played regularly on the top board for Yorkshire. He was a good all-round player but was particularly strong on defence and was rarely beaten.
The outstanding personality between the two world wars was Josh Jackson. A fine player among the top half-dozen in Yorkshire and a great analyst. He was always ready to teach any young player and could play several games simultaneous and blindfold!
He was a barber and there was always on show in the shop a board with the latest position in his current correspondence game.
I joined D.C.C. when I was 15 years old and was soon playing in the I.M.Brown team. I taught my elder brother Colin to play and we both played in the team which won the I.M.Brown in1935 winning most of our games.
Colin won the handicap and I won the scratch in the last season before the war. Sadly Colin was killed in Belgium in September 1944.
I never found time to enter the Congresses so I suppose the only notable games were when I very luckily beat the then Yorkshire Champion Edwards when playing on the top board against Yorkshire Evening News League, and I got a draw against the Grandmaster Snorko Borofsky – who wrote a classic on the middle game – in a simultaneous.
The club has had many good players but probably Stephen Berry, who won the Open at Harrogate Congress, rates as the best.
Since I have been a member the club venues have been at: Days Cafe Church St., The Liberal Club Bond St., Pickles Chambers Corporation St., Old textile Club Union St., New Textile Club Oldham Rd., Wellington Hotel Northgate, Club & Institute Oates St., Sports Centre and St. Paulinus Social Club.
I have been assistant secretary, treasurer, secretary, vice president and now president for about 30 years.
Some Dewsbury Players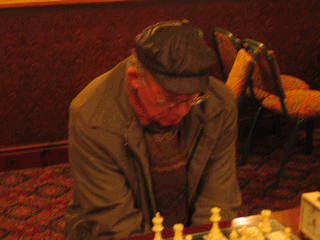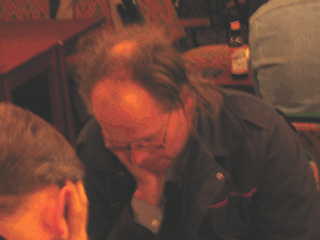 The only and only Mike Fox Adrian Metcalfe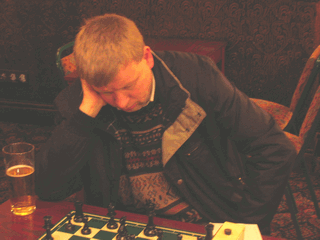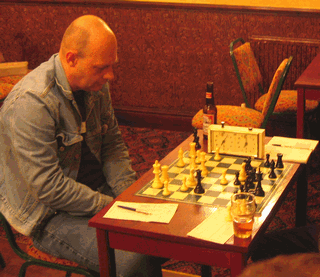 Shane Inglis Yup the lager's not far away Chris Lund !
This article was written John Eagers.
Postscript
Maurice died Sunday 26th August 2007 after a short illness.
Maurice W. Child
2/1/1917 - 26/8/2007
Results from his final season below
| | | | | | | | | | |
| --- | --- | --- | --- | --- | --- | --- | --- | --- | --- |
| 21/09/06 | 5.Exam | Dews-Brig | w | 1 | PATRICK David A. | 147 | 197 | 1 | |
| 28/09/06 | 9.Wat | Dews-HudKnig | b | 0.5 | BOYLAN Richard | 132 | 132 | 2 | |
| 30/09/06 | YorksLge | PontDews | w | 1 | CARR N | 104 | 154 | 3 | |
| 05/10/06 | 14.Exam | Dews-Dragon | b | 0 | HEPWORTH Nigel R | 108 | 58 | 4 | |
| 11/10/06 | 18.Wat | Neth2-Dews | w | 0 | TAYLOR J H | 92 | 42 | 5 | |
| 14/10/06 | YorksLge | Dew-BradB | b | 1 | AKO G | 107 | 157 | 6 | |
| 19/10/06 | 23.Exam | Dews-Wake | b | 0.5 | SHELMERDINE Mark | 99 | 99 | 7 | |
| 25/10/06 | 27.Wat | HudBish-Dews | b | 1 | SUTCLIFFE Robert J. | 114 | 164 | 8 | |
| 28/10/06 | YorksLge | RoseFB-Dews | w | 0 | LETTON R | 138 | 88 | 9 | |
| 31/10/06 | 30.Exam | HV-Dews | w | 0 | GRIST James | 96 | 46 | 10 | |
| 22/11/06 | 40.Exam | NethA-Dews | b | 0.5 | GILPIN A A (Tony) | 129 | 129 | 11 | |
| 30/11/06 | 45.Wat | Dews-DB | b | 1 | HILL Dennis T | 66 | 132 | 12 | |
| 07/12/06 | 50.Exam | Dews-NethB | w | 0 | RIGBY Nicholas T | 120 | 70 | 13 | |
| 09/12/06 | YorksLge | DewsAlwoodA | b | 0 | JONES R | 141 | 91 | 14 | |
| 09/01/07 | 51.Wat | HV-Dewsb | w | 0 | KEELY Leo A | 158 | 108 | 15 | |
| 20/01/07 | YorksLge | ShefC-Dews | w | 0 | ARYAN T | 120 | 70 | 16 | |
| 31/01/07 | 67.Wat | Neth1-Dews | w | 0 | NEWSOME Michael K | 151 | 101 | 17 | |
| 03/02/07 | YorksLge | Dews-WstLeeds | b | 1 | SUMMERLAND D | 103 | 153 | 18 | |
| 17/02/07 | YorksLge | NethA-ShefD | w | 0 | CORBETT ME | 127 | 77 | 19 | |
| 21/02/07 | 56.Exam | HudRooks-Dew | b | 0 | TOOLEY David J | 120 | 70 | 20 | |
| 03/03/07 | YorksLge | Dews-Hull | b | 0 | GARDINER E | 156 | 106 | 21 | |
| 08/03/07 | 77.TmKO | Dews-DB | w | 1 | CLIFFE J. Raymond | 77 | 132 | 22 | |
| 10/03/07 | YorksLge | Dew-YorkRIC | b | 1 | CLOUDSDALE P | 140 | 190 | 23 | |
| 31/03/07 | YorksLge | Dews-HarrB | b | 1 | MARKS EG | 119 | 169 | 24 | |
| 14/04/07 | YorksLge | StVinc-Dews | w | 0 | GRICE, Alec | 120 | 70 | 25 | 112 |